About Dr. Dio Kim
Dr. Dio Kim received Bachelors of Science degree from University of California-Davis. He then completed Doctor of Chiropractic degree from Palmer College of Chiropractic-West in 2000. As he continued with his studies about the Chiropractic and Acupuncture, he obtained his Masters in Acupuncture and Oriental Medicine degree at the Southern California University of Health Sciences in 2004.
Not only Dr. Dio Kim possesses dual licenses in Chiropractic and Acupuncture, but he is also a diplomate American Chiropractic Board of Sports Physicians (DACBSP®) who is a volunteer chiropractor for United States Olympic Committee (USOC) Sports Medicine; helping Olympic athletes with their injuries or pain. Dr. Dio Kim is a certified Graston technique and Kinesio Taping Practitioner as well. Graston Technique and Kinesio Taping are important for any athlete with injuries since the techniques help clinicians to detect and effectively break down scar tissue and fascial restrictions, while improve the range of motion. He also treats golfers for the PGA Tour since he has a certificate in the Chiropractic Management of Golf Injuries.
Dr. Dio Kim is very unique; he obtained certifications in many areas such as the Activator Method Chiropractic Technique, Thompson Drop Technique and Cox Disc Decompression and Manipulation Technic. He, furthermore, is a chiropractor who obtained the Diplomate In Clinical Chiropractic Pediatrics (DICCP). It is three years postgraduate program and is a board certified credential in pediatrics for doctors of chiropractic who is specialized in kids from infants to teenagers.
Moreover, Dr. Dio Kim is one of few chiropractors in the world who is certified in CLEAR Scoliosis Method. The CLEAR Scoliosis Method is a conservative way to treat scoliosis. He expanded his interest to scoliosis treatment and obtained a world master certification that specializes in the conservative treatment and management of scoliosis from ISICO. His journey continued in scoliosis and certified in Scientific Exercise Approach to Scoliosis (SEAS) and certified in Scolibrace, a corrective 3D scoliosis brace system.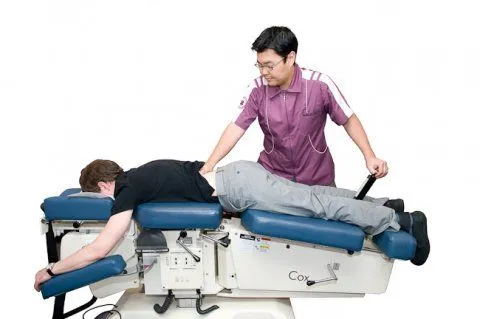 Dr. Kim is a Qualified Medical Evaluator for work related injuries and disabilities. He is knowledgeable about the laws and regulations of any type of work related injuries. Furthermore, he is certified in Traumatic Brain Injury Analysis and Biomechanical Analysis Trauma. Being certified in these areas are very important to the patients with traumatic injuries from automobile accidents or sports related injuries.
Dr. Kim is a licensed acupuncturist who is knowledgeable with acupuncture, cupping and herbal therapy, which helps patients improve their circulation of their body energy. He learned very effective traditional Korean acupuncture techniques (Il-sun/Sa-Am Acupuncture Techinques) which have been practiced for hundreds of years. He is certified in II-Sun Acupuncture Technique and in Sa-Am Acupuncture technique. His acupuncture techniques are very comfortable and effective for patients who desire a healthier body.